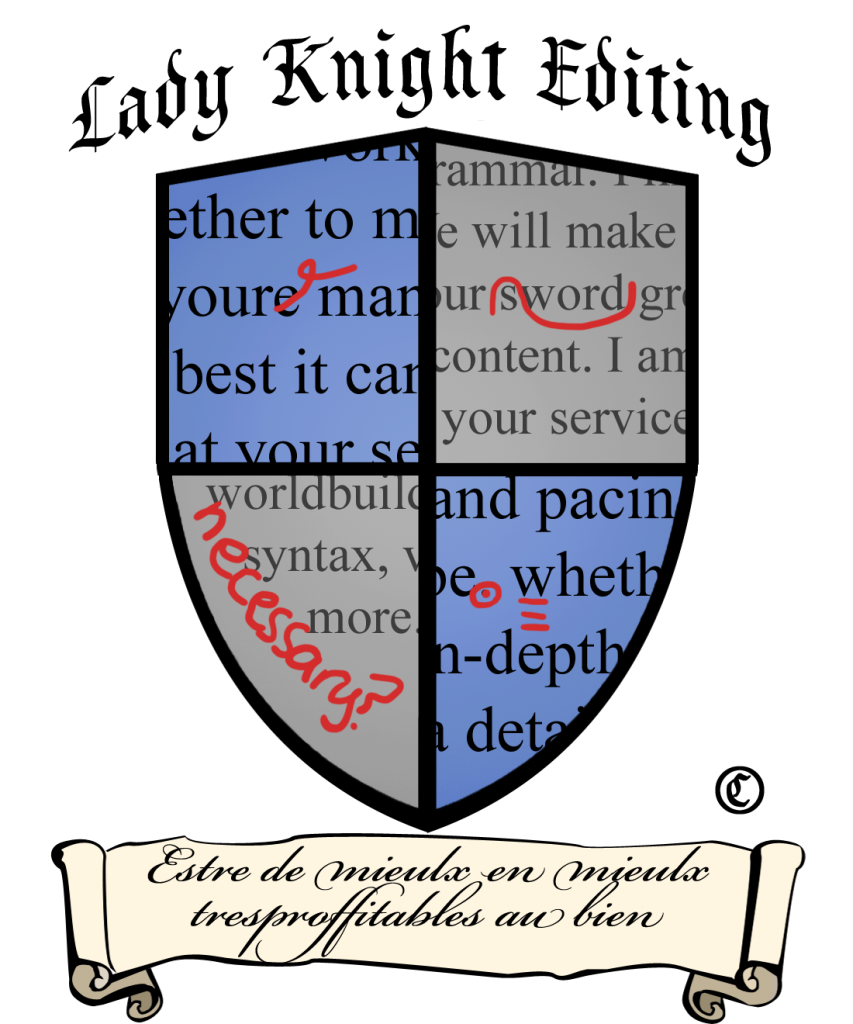 We've reached a year of Lady Knight Editing! I ought to pick an official birthday; I don't know if it should be when I started working on the website, when I first registered the LLC, or when my site went live. But it all happened at the end of February and beginning of March last year. And in honor of this anniversary, I've decided to write up a bit of a mission statement (and an explanation of my very fancy logo).
My Logo and My Mission
When I was first preparing to start this business in early 2018, I asked my fantastically talented sister to help me design a logo. As with the entire website design process, I had a lot of fun with this. I ended up making one lavish, complex logo and then a simplified one I tend to use for most advertising. A simple logo is easier to remember, etc. But I can't help loving my original, complex logo; you can see that I feature it prominently on my site! As heraldry should, the different elements of my logo symbolize different aspects of my business and my mission.
The Name
I spent a lot of time and effort trying to pick the perfect name for my business. I wanted something fun, and pretty much from the beginning I wanted to play off my super-cool last name (thanks husband). Fantasy is my favorite genre to read. And whenever I play a fantasy-based game, I gravitate toward the knight/warrior character. So when someone suggested Lady Knight, it rang true to me and my mission.

The name turned out to be even truer than I first recognized. As I've developed my business, I've realized just how much my mission is to be the champion for my authors.
Too many people imagine the author-editor relationship to be adversarial. That the editor will come in and demolish the manuscript, and the author will have to fight them to stay true to their heart. And I have heard the occasional horror story. But I truly believe that most editors want nothing more than to help their authors.
And this is especially true for me. I want to be your champion. To be your loyal companion as you traverse the publishing world, to protect you from pitfalls, and to help slay the monster that is writer's block. My mission (or quest, if you will) is to see my authors succeed.
The Shield
Once I'd chosen a name, the basic shape of my logo instantly came to mind. Not only are shields often found in logos1 thanks to the practice of heraldry, but a shield is a crucial part of the knight's equipment. Part of my mission is to protect my authors from reader confusion; the shield symbolizes that protection.
Though editing is so much more than proofreading,2 proofreading marks are the simplest way to convey editing. And the marks I chose are my favorites when I'm working on paper. The delete mark is so quick and easy; I use the period and capitalization marks often. The "necessary?" query hints at the larger purpose of editing. The transpose mark is fun, and I love how "sword" is a transposition of "words." It fits my theme perfectly!
Quick tangent into book history: During my Master's programme, I took a course on provenance in books. One very important method of tracking book ownership through the centuries is through bookplates and heraldry. In Medieval times, book owners would mark their books with the shield that represented their family line.
Armorial markings have their own language, and if I were to try to describe my logo in those terms, the blazon would probably go something like this (non-blazon editing terms in italics): Quarterly azure and argent, in the first quarter a delete, in the second quarter a transpose, in the third quarter a query, in the fourth quarter a period and a capitalize. I'd love to send this to my professor and see if I got it right!
The Slogan
As one of my friends pointed out, writers want to know what words say! So perhaps the most important part of this post is my explanation of the slogan at the base of my logo. "Estre de mieulx en mieulx tresproffitables au bien." This is a quote from Christine de Pizan's book Le trésor de la cité des dames (The Treasure of the City of Ladies, also known as The Book of the Three Virtues).3 If you've read my post on Christine de Pizan, you know how much I love her. And as I was searching for a quote to fit my Medieval theme, I thought, why not use something from my favorite Medieval author? I came up with a few possible quotes before I found this one and saw how perfect it was.

Roughly translated,4 the line reads "To be more and more very-profitable for good." And that is exactly my goal as an editor. I want to be very-profitable for my authors—for the good of everyone. Not only do I want to help make their writing better, I want to help them spread goodness. Your thoughts and your words have value, and your writing can change someone's life. You, too, can be very-profitable for good.
…And Many More!
As I look back on a year full of battling writer's block, defending against confusion, and spreading goodness, I feel I've grown into my mission and my logo. And I hope to be able to continue being your champion for many years to come!
---